Snowshoe Only Rental
Why buy when you can rent for less! Ready to explore the snowy Canadian Rockies? Get your snowshoe rentals from Craze Outdoors and hit the trails! Our rentals are easy to use, durable, and comfortable - perfect for flat trails or rolling hills. Plus, we'll cover your damages with our rental insurance policy. So get out there and start discovering - all you need to do is pre-book online or reserve in store!
More Details
Who Can Snowshoe?

If you can walk, you can showshoe!

Craze Outdoors rents MSR Evo Trail Showshoes + Tubbs Snowshoe Poles. These snowshoes are designed for riders weighting at least 90LBS.

For children under 90 LBS, we rent snowshoes based on product availability - give us a call and we will determine what is the best fit for your children!
What Does The Rental Process Look Like?

You can pre-book online or reserve in store. If reserving in-store, please call ahead to ensure we have the number of sets available for you.

If you are using our online booking tool: select your trip dates, the number of pairs you require, and complete your transaction through our booking system.
When Can I Pick Up And Drop Off My Rentals?

Free pickup is available after 3:00 PM, and returns are due by 1:00 PM the following day.

Pickups prior to 1:00 PM will be charged for a full day, and returns delivered after 3:00 PM will be charged for the full day.
Am I Required To Sign A Waiver?

Yes, waiver are required to pick up your rentals. Waivers will be signed and collected upon pickup
Do I have To Pay Rental Insurance?

Rental cost includes rental insurance for damages (not losses of equipment).
What Is The Safety Deposit Fee?

The safety deposit fee is a temporary hold for the rented item's value. With our pre-authroization system, you only "pay" for your rental once the items are returned to Craze. For more information on safety deposit fees, give us a call at 403-814-0484 or send us an email at support@crazeoutdoors.com.
BACKCOUNTRY SAFETY NOTICE
If you are headed out to the backcountry, ensure that you are up to date with local avalanche conditions, and have taken the relevant training. Stay safe and make conservative terrain choices.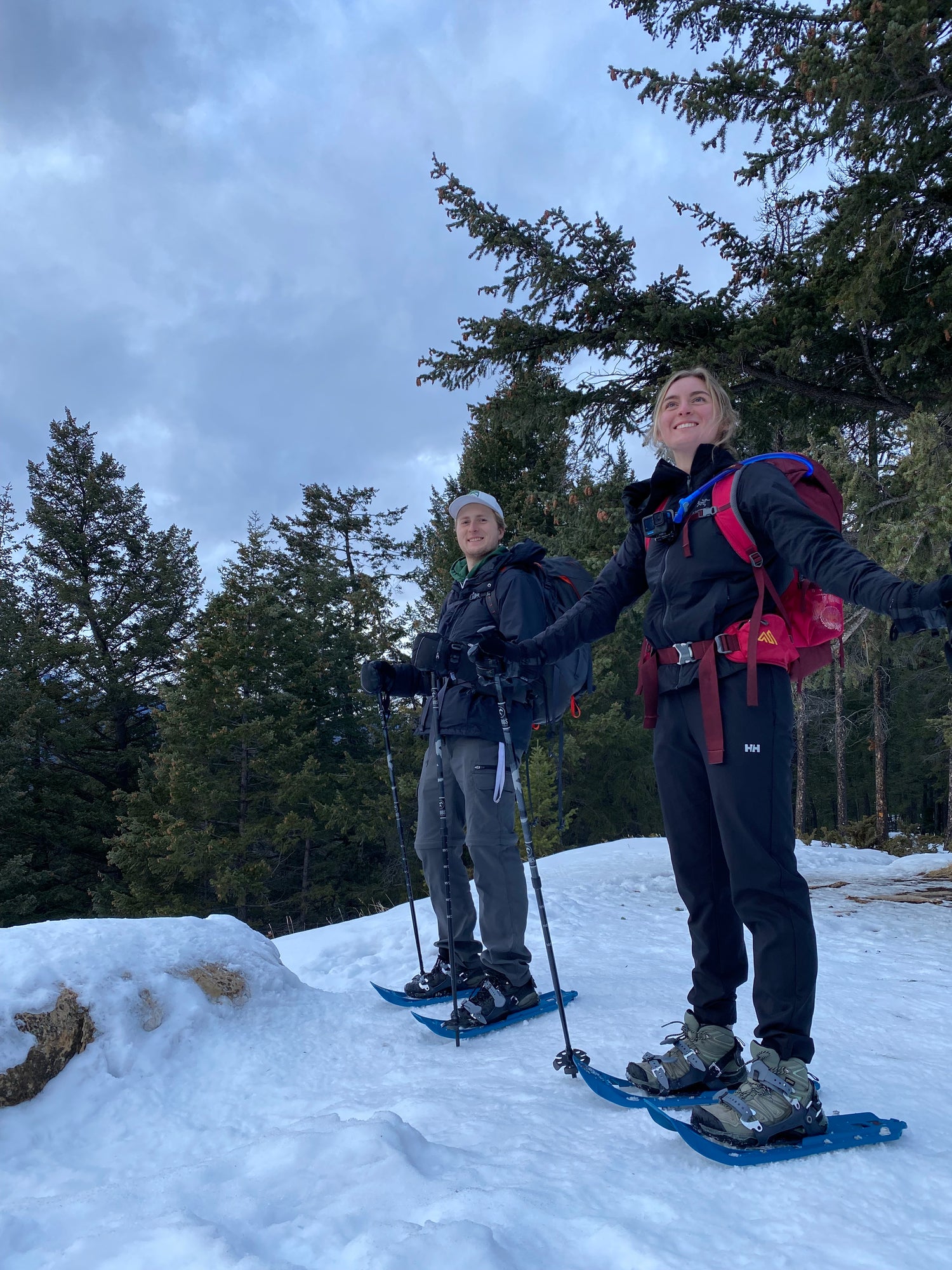 Snowshoe Your Way
Snowshoeing is a great way to enjoy the outdoors while getting a good workout. Whether you're looking for a challenging mountain climb or a peaceful journey through the woods, snowshoeing can provide you with an unforgettable experience. Not only will you get to take in beautiful scenery, but you'll also be able to enjoy the physical and mental benefits of being out in nature. So why not give snowshoeing a try? It's an activity that will leave you feeling relaxed and refreshed while giving you the opportunity to explore some of the Alberta's most pristine spaces.