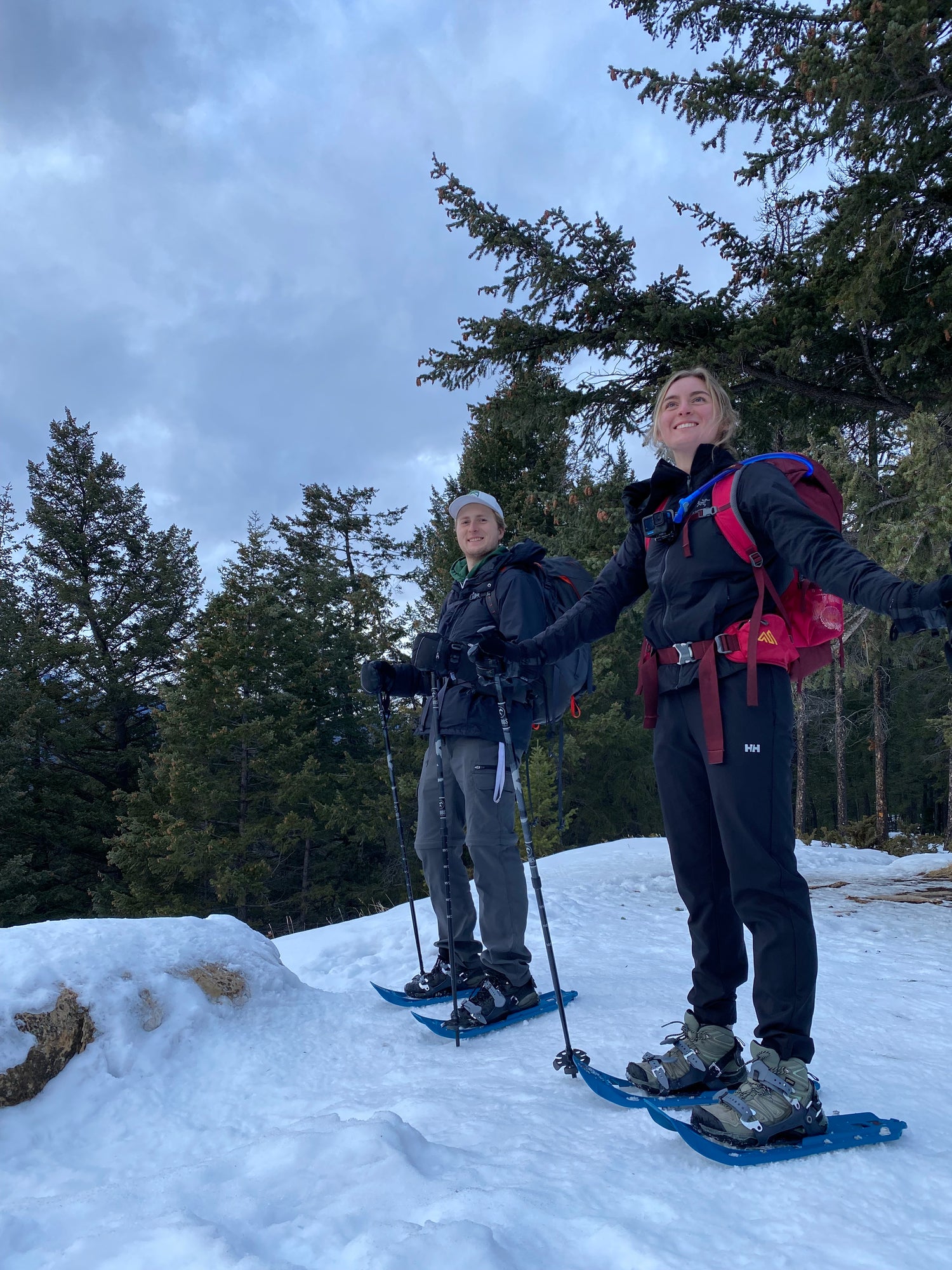 Why Rent Snowshoes?
Snowshoeing is an exciting way to explore the breathtaking Alberta landscape. Whether you're looking for a day trip or a longer adventure, Craze Outdoors will get setup for the perfect snowshoeing experience. With snowshoes for all sizes and skill levels, the Craze Outdoor Snowshoe Rental Program makes it easy to get out into the wilderness and enjoy the beauty of Kananaskis, Banff, or beyond!
Calgary Snowshoe Rental Packages
MARCH SPECIAL - $5 / Day Rentals!
Rent or Buy? - Explained
At Craze Outdoors, we want to set you up with the right gear for your outdoor adventures. Whether you're just getting started, or looking to refresh your old gear - we have you covered.
Renting Advantages
Cost Savings

Craze Outdoor's snowshoe rental program offers affordable access to the outdoors. Whether it's your first time on snowshoes, or you're only able to make it out a few times a year - renting snowshoes offers access to quality gear for only a fraction of the cost of ownership.

Sustainability

Renting gear can reduce equipment emissions by 30% - 50%. Rental gear is repaired and maintained by Craze Outdoors, which increases a product's overall usage and lifespan.

Save Storage Space

Renting snowshoes can be a great way to save on storage space. No need to store your snowshoes in the garage with all that other gear. Renting is a clutter-free way to enjoy the outdoors as and when you want to.

Repairs & Maintenance Included

When you rent snowshoes from Craze Outdoors, we take care of the ongoing maintence and repairs of the snowshoes - so you can focus on getting outdoors and enjoying your free time.
Purchasing Advantages
Cost Savings (Frequent Use)

If you are the outdoorsy type and are getting out to the mountains more than 7 times a season, it may be worth it to pick up a pair of snowshoes.


Good news: if you end up picking up the sport, we can credit your snowshoe rentals towards the purchase of a pair of shoes!

Getting Exactly What You Need

Although renting snowshoes has its advantages, there are also some drawbacks associated with renting snowshoes, such as limited rental availablity during peak periods and selection of equipment suitable for mountian / alpine terrain. When you purchase snowshoes through Craze Outdoors, we can help you choose a pair that will match your chosen adventure.

Always Available

While we work to optimize our snowshoe fleet, we may run into situations where we have no gear available for your prefered trip dates. If you need your snowshoes at a moment's notice, it may be worthwhile to purchase a pair.

Tailored Fit

When you purchase your own set of snowshoes, you can tailor the fit of your snowshoes to your specific shoe.
Do you snowshoe, hike, ski, or board in the backcountry?
Check out the Avalanche Bulletins BEFORE you head out.